Contact us

GEM REWARD SURVEY - 2012 EDITION

GEM REWARD BENEFIT REPORT (v.1.0) - 2012 DOWNLOAD November 23, 2012
Click on the appropriate below icon (GEM) to download the GEM 2012 Report.
In order to open the file report, please request your password to the GEM secretariat
The GEM has been running for many years a local salary survey amongst their members. As of this year, the survey will be open to non-members under certain conditions (see below - to download the survey questionnaire, go to the bottom of this page).
Survey Background
Since 2008, the GEM has selected TymWork to run the survey. We believe we have a good understanding of the market and a long experience on the survey activities. The 2008 edition has been a major step forward over the previous GEM surveys by introducing a specific salary program linked to the web which provides more flexibility for data collection as well as a major improvement in the quality and customization of the survey reports.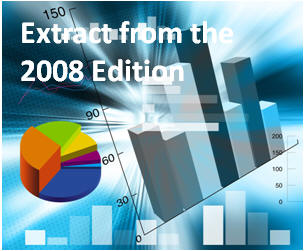 For the 2010 edition, following feedbacks of participants, we have upgraded the survey and added a comprehensive questionnaire to cover all major C&B aspects of the participating companies. Also the confidentiality level has been increased (no more open code).
In 2010, 32 multinationals have participated to the GEM survey. Prior 2010, many potential participants decided not to participate due to the open code policy that had been adopted by the GEM for the previous editions. In 2010, full confidentiality has been implemented and the coverage of the survey has been seriously extended with the new highly comprehensive benefit/fringe policy section.
Objective of the study and Process
The GEM Reward survey is to cover all compensation and benefit aspects amongst multinationals established within the lake Geneva region (French speaking cantons mainly GE and VD, extended to FR, NE, and VS). Until today, only GEM members were eligible to participate to this survey and only the participants would get access to the survey results.

This year, the GEM has decided to open-up the survey to non-GEM companies as long as they meet the following criteria:

Private Sector

If local subsidiary reported, headcount should be at least 200 employees

If HQs reported, headcount should be at least 50 employees

Corporate company should have a worldwide presence

Total company headcount should be no less than 2'000 employees

As in the past edition, to ease-up the job matching, the survey has 7 GEM grades with a direct correlation to HAY, WATSON WYATT and MERCER points value. 43 positions are being covered, jobs mostly within supporting and professional staff as well as middle management's population (up to : +/- 900 Hay points - Towers Watson level 16-17 - Mercer position class 59).

Compensation elements covered :

Benefit/Fringes Policies

Working Policies

Pension Plans

Other Benefit Plans

Car Policies

Other Perquisites

Termination Plans

Information such as stock option eligibility, ESPP, company car eligibility and other allowances and/or perks will also be collected for each reported position.
Data collection
The participant data will be collected through a database questionnaire to be downloaded from our dedicated secured website.

This database will contain all the necessary data and instructions to facilitate participants in reporting their inputs.

Either you will enter directly the salaries on the program or, for larger organizations, you will have the possibility to upload pertinent salary data from PeopleSoft, SAP or other HRIS systems via a preset Excel (xls) spreadsheet.

This ensures proper completion of the document and facilitates the data collection process.

IMPORTANT : Participants will be required that all incumbents covered by the survey be reported, To respect an equal weighting amongst various participants, especially for well populated positions, the program will ensure that reported data in the survey will not exceed 3 inputs per position/per company (i.e. Q1, median and Q3)

Once the participant data inputs process is completed, by a click of a button (provided that the computer is connected to a network), the company inputs will be automatically transferred to TymWork for analysis and consolidation.
Data processing
With the help of a database approach, it will enable us to:

Ø better control the participants data completion;

Ø have a clear and structured approach in collecting inputs;

Ø highly improve the data cleaning process.
Positions covered
This year, the positions included in the survey have been reviewed and updated to better reflect the current business needs. Below the 2012 surveyed positions :

| | | | | |
| --- | --- | --- | --- | --- |
| Job Code | Job Title | | Job Code | Job Title |
| ADM01 | Secretary | | IT15 | IS Manager |
| ADM02 | Admin Assistant | | | |
| ADM03 | Executive Assistant | | LGL01 | Paralegal |
| | | | LGL02 | Patent Attorney / Intellectual Property |
| FIN02 | Accountant / Senior Associate | | LGL05 | Legal Counsel |
| FIN04 | Accounting Supervisor | | LGL10 | Regulatory Affairs Manager |
| FIN05 | General Accounting Manager | | | |
| FIN10 | Financial Analyst | | OTH01 | University Graduate |
| FIN20 | Financial Controller | | OTH05 | Project Manager |
| FIN25 | Internal Auditor | | | |
| FIN30 | Tax Consultant | | SM01 | Sales Representative |
| FIN31 | Tax Manager | | SM03 | Sales Manager |
| FIN35 | Treasury Manager | | SM05 | Account Manager |
| | | | SM10 | Business Development Manager |
| GS05 | Facility Assistant | | SM11 | Product Manager |
| GS06 | Facility Manager | | SM15 | Brand Planning Manager |
| HR01 | Payroll Administrator | | SM20 | Marketing Communication Coordinator |
| HR05 | HR Specialist | | SM21 | Marketing Manager |
| HR10 | HR Manager | | | |
| HR11 | BU HR Manager | | SUP01 | Buyer |
| | | | SUP02 | Purchasing / Procurement Manager |
| IT01 | IS / IT Help Desk | | SUP04 | Technical Sales Support Engineer |
| IT02 | IT Specialist | | SUP05 | Customer Service |
| IT05 | IS Programmer / Application Engineer | | SUP07 | Customer Service Manager |
| IT10 | IS Project Manager | | SUP10 | Logistics Manager |
Survey report (outcome)
With the above described approach, the database will be used to produce the final report.

Output will be produced within the GEM program. However, participants will be able to export the results onto Excel spreadsheets so participants can make some copy/paste of the data or even customize their own outcome report.

Since the 2010 edition, it has been decided that the survey will remain anonymous for confidentiality reasons. Therefore no raw data will be available nor company codes will be disclosed.

The survey is designed so the output process is totally under control of the participants (within confidentiality limits) which is a great added value to the survey.
Timing
Completion date : July 16th 2012. Data to be returned via questionnaire application (automated email attachment).

Final report expected online by the end of September, 2012
Cost
The cost to participate to the 2012 edition is CHF 1'500.- for GEM members, and CHF 3'150.- for non-members.

You can either directly register ONLINE, or via the GEM through a fax or email.
Confidentiality
Since 2010, the survey has been a close code survey, i.e. company codes will not be disclosed to the GEM survey participants or any other third parties.

As in the past, participants will be asked, when first launching the survey application, to accept not to divulge any confidential information related to the survey to non-authorized parties.

References to companies salary data should be restricted to the participant's HR department.

Access of the survey questionnaire and the results outcome on the website will be password protected.

The questionnaire is freely accessible for download on this webpage. To ensure that the data you enter be secured on your PC, during program installation, you will be requested to enter a password that will be communicated to you once you have registered.

These will be securely released once survey results available and only to the survey's participants.
GEM REWARD QUESTIONNAIRE SURVEY (v. 1.53) - 2012 DOWNLOAD

Once registered, click on the below icon to download the GEM 2012 questionnaire.
INSTRUCTIONS FOR INSTALLING THE QUESTIONNAIRE PROGRAM ON YOUR COMPUTER
The download of the Program Questionnaire is not password protected. However, when you will open the application, you will be required to enter an Account Name and Password. These will be communicated to you while you register online or via the GEM official website.
When downloading the above application, and depending the level of security your computer is set, you will be warned that the application is unknown from Microsoft. Do not worry, as the application has not been submitted to Microsoft security process, this is a normal warning message. Continue by selecting "Run anyway".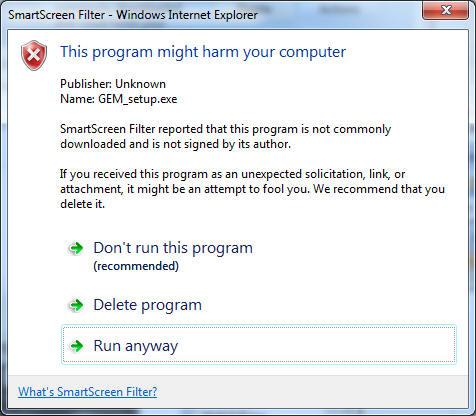 Just make sure that the program that will be executed comes from www.tymwork.com website, and you will run the program safely. The installation program is named "GEM_setup.exe"
If your local IT still has an issue with the above, you can download a .zip version that will limit the number of warnings as the file is not an .exe file or ultimately request a CD with the program to be mailed to you directly.
If you have an issue with the installation of the software, please contact gem@tymwork.com
Questions & Answers regarding the questionnaire application
Q. How do I complete the questionnaire?
A. Screen templates are rather self-explanatory. However, you have the possibility within the program to access an instruction guide as well as the survey job description booklet.
Q. How do I sent it back when completed?
A. Once you've completed the questionnaire, you come back to the startup screen (Home screen). You will see on the command bar (bottom of the screen) a button with "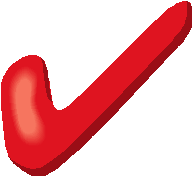 SEND YOUR DATA" . By clicking on it, it will automatically create an email with an attachment (Xport.gem12) to the attention of TymWork with you inputs. Make sure that you are online (your email program open) as your email program will be solicited to perform this action. Once the email shows up on your screen with the attachement, send it!
Q. It seems that no automatic email is being created to forward my inputs?
A. Should, for whatever reasons, the automatic email does not work (could be some issues with older versions of Outlook or Lotus Notes, your inputs to be transferred to TymWork can be located in C:\GEM Quest 012\Xport.gem12. Just create a new email with your mail program to the attention of gem@tymwork.com with the attachment "Xport.gem12" (not the file Xport.xls)
Q. I am using Windows XP. Is the GEM program compatible with my operating system?
A. Yes, the program should runs flawlessly on Win 2000, XP, but VISTA/WINDOWS 7 would be recommended.
Q. How do I save my work?
A. Your input is automatically saved as you work on the questionnaire. Should you quit the application, you can re-enter the questionnaire at a later stage to come back where you left it!
Q, Can I print my work?
A. By clicking on the appropriate report print buttons you will get your data questionnaire printed for references.
Beware that the questionnaire to be returned to TymWork is to be completed on the database only and not on a hard copy!
---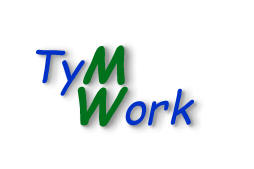 About TymWork & Co

We are consultants focusing on human resources management based in Geneva, Switzerland, providing international expertise within EMEA. We have a proven track record since 1999 in delivering quality data, complete confidentiality and discretion, and an impartial, objective comprehensive market study. Should you have any further questions on any other consulting activities carried out by TymWork & Co, please do not hesitate to contact us at:

tel :+41 78 630 7884

fax:+41 22 735 8889