New iPhone/iPad/Desktop Application
THE PROGRAM WILL BE ON LINE BY FALL 2015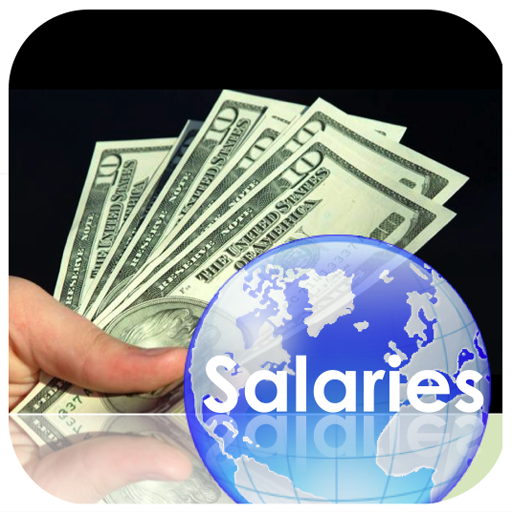 EVER WANTED TO HAVE AN APPLICATION THAT WILL EASILY AND QUICKLY CALCULATE
MANDATORY BENEFITS

INCOME TAXES,

HOUSING COSTS

COST-OF-LIVING COSTS
ALL WITHIN ONE SIMPLE APPLICATION AT A VERY REASONABLE COST?
Based on your current salary, what should you get in a different location/country ?

This professional app quickly enables you to compare your home (or any other locations)
salary up to 83 cities within 64 countries around the globe.

Simply select your starting location (Home), enter your salary in local currency, then choose
the ending location (Host).
This application can run either on your Mac OS or Windows, or on your iPhone/iPad
(using FileMaker Go application - to be downloaded from iTune).

eSalary app will calculate 2 different gross salaries you should be earning in the selected
host location :
The localizing approach - based on your current salary, what should you get locally.

It compares current home/host established salary structures.
The expatriate built-up method approach - your recommended host salary should you

want to maintain your current purchasing power.

It provides you a comparison between the home and host location gross salaries,

statutory benefits cost, taxes and housing costs and the cost-of-living adjustment

(COLA).
In order to come up to these salaries, the following deductions (in both locations) are reported,
such as :
schemes where applicable)
SCREEN SHOTS SAMPLES ON THE IPHONE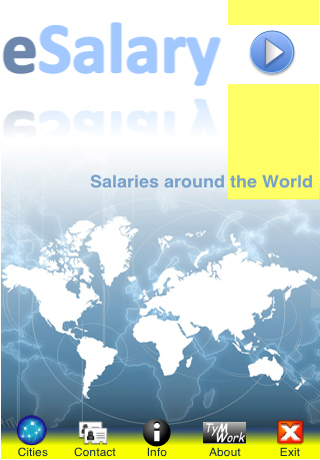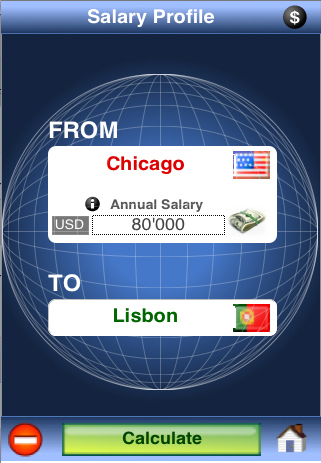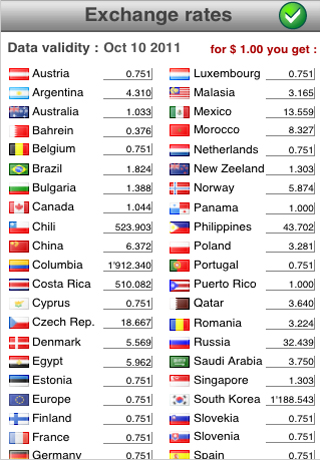 Locations covered :

NORTH AMERICA
Chicago
Houston
Los Angeles
Mexico City
Miami
Montreal
New York
San Juan
Toronto

LATIN AMERICA
Bogotá
Buenos Aires
Caracas
Guatemala City
Panama City
Rio de Janeiro
San Jose
Santiago de Chile
São Paulo

WESTERN EUROPE
Amsterdam
Athens
Barcelona
Berlin
Brussels
Copenhagen
Dublin
Frankfurt
Geneva
Glasgow
Helsinki
Lisbon
Liverpool
London
Luxembourg
Lyon
Madrid
Milan
Munich
Nicosia
Oslo
Paris
Rome
Stockholm
Vienna
Zürich

EASTERN/CENTRAL EUROPE
Bratislava
Bucharest
Budapest
Kiev
Ljubljana
Moscow
Prague
Riga
Sofia
Tallinn
Vilnius
Warsaw

MIDDLE EAST
Doha
Dubai
Istanbul
Manama
Riyadh
Tel Aviv

AFRICA
Cairo
Casablanca
Johannesburg
Nairobi
Tunis

ASIA PACIFIC
Auckland
Bangkok
Beijing
Delhi
Ho Chi Minh City
Hong Kong
Jakarta
Kuala Lumpur
Manila
Mumbai
Seoul
Shanghai
Singapore
Sydney
Taipei
Tokyo